MSFS 2020 and FBW A320 Users¶
(a) You need the FSUIPC program designed to extract data from FS2004, FSX, p3d and MSFS simulations. There is a free version of this program, as well as versions that offer additional features when purchased for a fee. You do not need to purchase the paid version to use FDR. FSUIPC version 7.2 (or higher) must be downloaded from www.fsuipc.com and installed on your computer.
(b) When using the FSUIPC 7.2 program with MSFS, it normally turns on automatically when MSFS is opened. However, when the problems mentioned below occur, it will have to be turned off and on by you externally.
(c) Although the FSUIPC installation for FS2004, FSX and p3d simulations is quite simple and trouble-free, some problems may occur during the installation of the FSUIPC 7.2 program used for MSFS. E.g.; Every software (airplane, scenery, etc.) to be uploaded externally to the MSFS simulation should be installed in the Drive:\Users\username\AppData\Roaming\Microsoft Flight Simulator\Packages\Community folder, but during the FSUIPC installation, it has been seen that it could not be installed under this folder on some computers. In order for FSUIPC to work properly, read data from MSFS planes and transfer it to FDR;
(I) After installation… Check the Drive:\Users\username\AppData\Roaming\Microsoft Flight Simulator\Packages\Community folder and the Drive:\Users\username\AppData\Roaming\Microsoft Flight Simulator\Packages folder, make sure that the folder named "fsuipc-lvar-module" exists in these two folders. The folder named "fsuipc-lvar-module" must be in the two folders we have shown above.
(II) If it does not exist, find this folder by referring to the installation path asked during the FSUIPC installation and copy it into both folders mentioned above.
(III) After doing this, run MSFS, the FSUIPC program will also run together with MSFS. In the FSUIPC program, first select WASM >> Enable from the Add-Ons menu, then check whether the List LVars option is active under the WASM menu.
(IV) If the List LVars option is active, FDR will be able to transfer data from your aircraft without any problems.
(V) If the List LVars option is not active, close the FSUIPC program. (MSFS and your plane should stay on, only FSUIPC should be turned off).
(VI) Rerun the FSUIPC program externally yourself. During this run, FSUIPC may crash several times and shut down. Turn it back on every time it shuts. After a few tries, FSUIPC will repair itself and after that it will be used without any problems.
(VII) These operations must be done especially for the MSFS FBW A320 aircraft software. Whether the stable, developer mode, or experimental mode options of the MSFS FBW A320 aircraft are loaded, FDR can work with all of them smoothly and can read the data. Remember that if FDR has problems with MSFS FBW A320, the cause is FSUIPC and incorrect installation, and that it can be fixed as described above.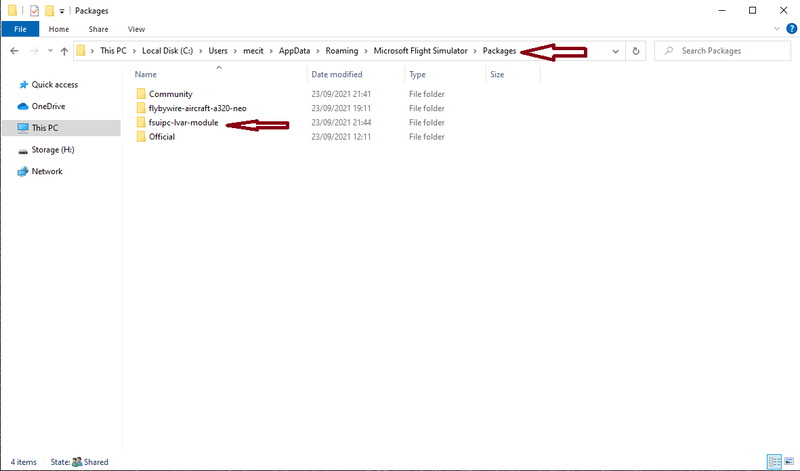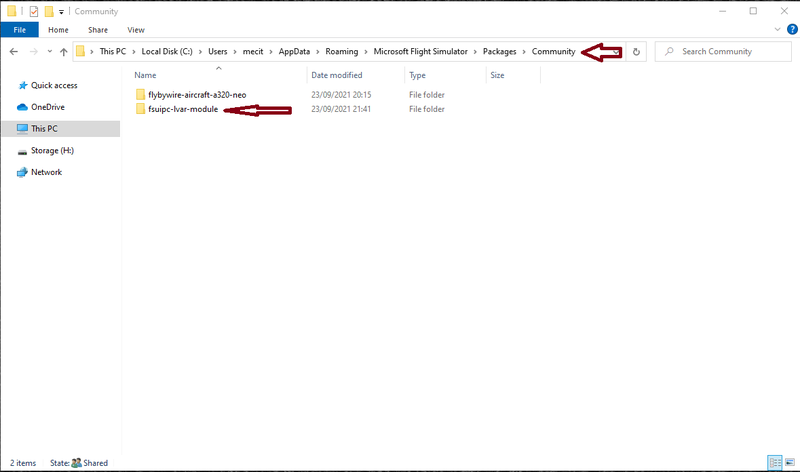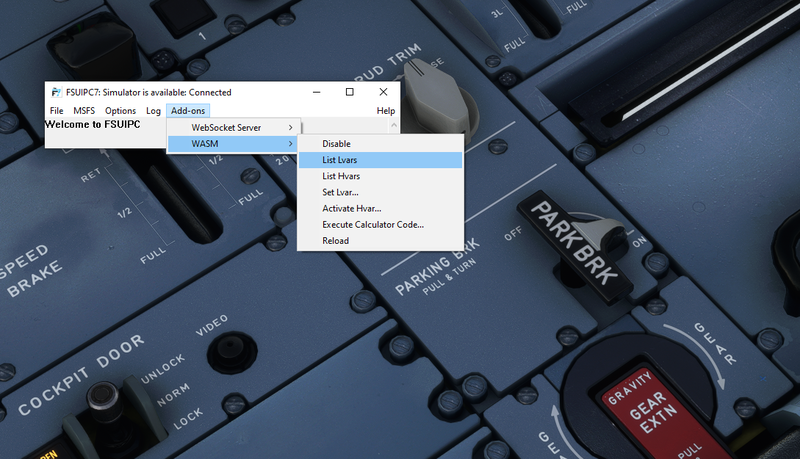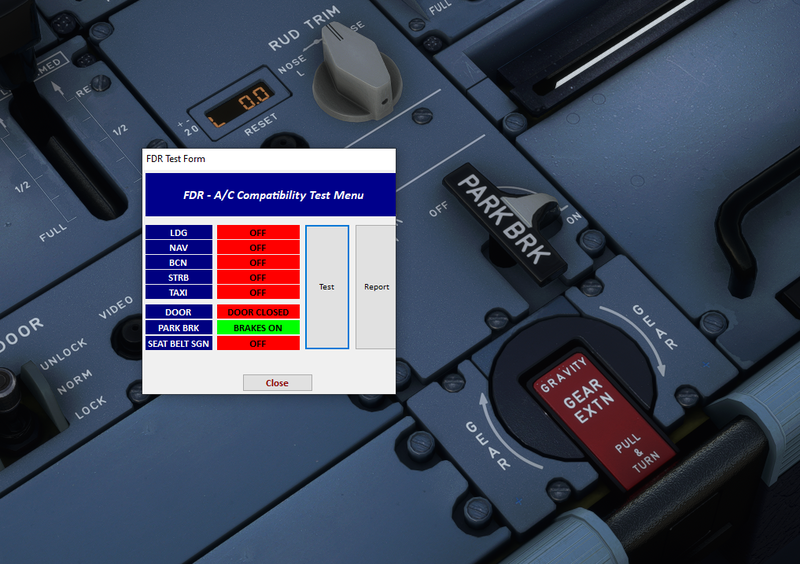 (1) The Problem of Aircraft's Piling Up in Microsoft Flight Simulator (MSFS 2020) Community Folder (This very new problem has been discussed on Turkish Virtual's forums and the detailed explanation is as below): "We didn't have that many airliner options at MSFS until now. There was only the flyable FBW A320. But in a short time, new payware aircraft models were launched one after the other. These; are the Justflight BAE 146 series, PMDG 737 700, LSH Maddog MD82 and Fenix A320 aircraft. Of course, these, together with their sub-models, suddenly filled our community folder, and a brand new bug that we never expected or even thought of appeared. Those who have used it know that all the planes I mentioned above, including FBW, have various detection problems. Some doors are not detected, some have lights, and some have parking brakes. With the LvarFix.dll file we developed for our FDR, solutions were produced for all of these and offered for your use. But here is the problem: There is a DATA reading problem entirely caused by MSFS. While MSFS is opening, it reads the LVARs of all planes in your community folder. What we call LVAR are the variables used in the aircraft's software. Maybe you know that FBW A320 is not coded in MSFS, so many issues are not coded in it, so it runs everything outside and turns into MSFS that MSFS can understand. In this way, endless coding can be done outside, and incredible realism can be increased. But to do this, FBW coders have used too many LVARs to date. FSUIPC, which acts as a bridge between FDR and aircraft, can only read 2044. Already, only the FBW A320 has around 1850 known LVAR usage. FSUIPC reads the remaining amount as LVARs of other aircraft. As you fill your community folder with new planes, FSUIPC tries to read all the LVARs belonging to these planes, but only 2044 are read, and the quota is full. In this case, some LVARs cannot be read, and FDR cannot read some parameters of your aircraft. Although these LVARs are defined in our LvarFix.dll file, FSUIPC cannot find them. We asked John Dowson, the developer of FSUIPC, about this brand new problem of MSFS, which is full of problems. We'll leave his answer below (below this explanation). We don't know if MSFS / Asobo will fix this issue but there is something you can do to overcome this problem:
(a) Download "MSFS Addon Linker" from flightsim.to (no install required, works directly with exe)
(b) At the first run, it will ask you where to install your addons outside of the community and ask you to show an address; for example, this will be very useful for those who use SSD. It also allows you to put everything on the HDD and use it instead of the SSD filling up quickly. I made two separate folders, "Aircraft" and "Sceneries", somewhere on the HDD. I moved the planes to the "Aircraft" folder and the airports to the "Sceneries" folder. Unless you're already moving, after you introduce these folder paths to the program, it will sort everything in the community folder for you, and it will take care of whichever you want to move.
(c) After moving the addon you want to the folder you wish to, this program will allow you to disable the addons you want. When you remove the tick in the box at the beginning, you will disable the plane or scenery.
(d) Before running MSFS, run the "MSFS addon linker" program; activate the plane you want to fly and disable the other aircraft.
(e) Then, open MSFS and fly.
(f) That's all you have to do. If you don't do this and fill your community folder with airplanes, you may experience compatibility problems between Airplane/FDR because LVARs cannot be read. However, a solution has been produced for all of the aircraft mentioned above and introduced to FDR. We hope that MSFS is someday free of bugs and we can fly smoothly…"
(g) John Dowson's Answer: This is a problem with MSFS. The FSUIPC WASM module just scans for lvars whenever a new aircraft is loaded, and reports what it finds back to FSUIPC7. It sems the MSFS returns many lvars used in both previously used aircraft and for aircraft sitting in your Community folder that have not been used. This can create issues as currently only a maximum of 2044 lvars are returned from the WASM to FSUIPC7, and so if you have an aircraft such as the FBW A320 installed in your folder, many of the lvars will be for this aircraft, reducing the number available (or returned) for the current aircraft. Note that when the WASM scans for lvars, there is no way for it to know if the lvars are for the previously loaded aircraft or an aircraft just installed in your Community folder - as far as the WASM and FSUIPC7 are concerned, they are the lvars that are currently available. Due to this, it is recommended to clear your Community folder of all aircraft before starting MSFS and just leave the one that you want ti use for that session, and most people use the MSFS add-on linker for this.
There is not much I can do about these extraneous lvars - this needs to be addressed by MSFS / Adobo.
I could increase the number of lvars passed back from the WASM to FSUIPC7, but the current limit (2044) should really be enough. I may consider increasing this (to 3066) in a future update, but it will take me a while before I have time for this